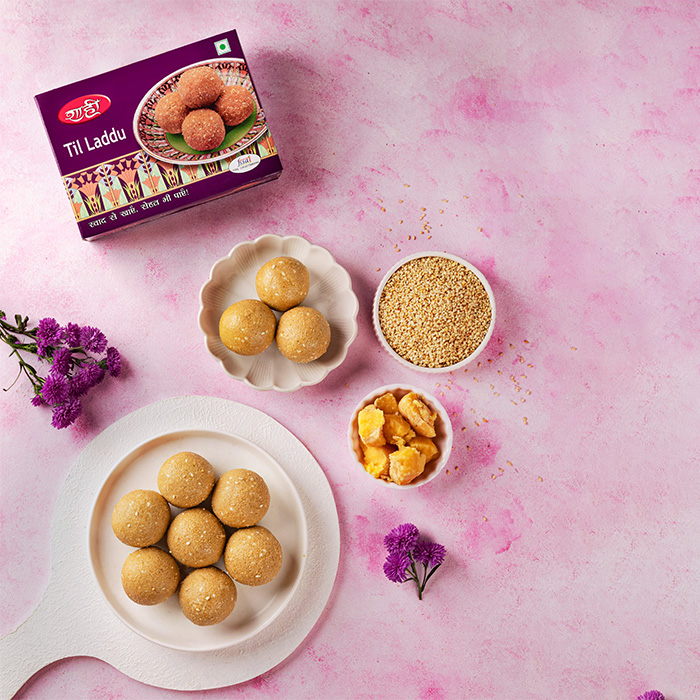 Indulge in the Authentic Taste of our Til Laddu, Order Sesame Seeds Laddu Online
Buy Sesame Seeds Laddu Online in India - Shahi Food Products, Gwalior
Discover the rich tradition of sesame seeds laddu with Shahi Food Products, Gwalior. We offer the finest selection of til laddu online, allowing you to experience the authentic flavours of India. Enjoy the convenience of ordering sesame seeds laddu online and relish this classic treat from the comfort of your home.
Elevate Your Snacking Experience with Healthy Til Ke Laddu - Order Now
Buy Shahi Healthy Sesame Seeds Laddu Online - Shahi Food Products, Gwalior
At Shahi Food Products, Gwalior, we take your snacking experience to the next level with our range of healthy sesame seeds laddu. 
Hand-made ladoos made by our expert artisans to blend the taste and nutrition of our til ke laddu redefines snacking pleasure. 
Order online now!
Health Benefits of Shahi Til Ladoo
Shahi Til Ladoo, made from sesame seeds, is packed with antioxidants and has properties that fight off bacteria and viruses. It's a great friend to your skin, improving blood flow and nourishment. Just like sesame seed oil, rich in omega-6, calcium, magnesium, phosphorus, iron, and vitamins B and E, which are all good for your skin and often used in cosmetics.
Get Your Till Laddu Questions Answered
Till Laddu FAQs
Frequently Asked Questions About Sesame Seeds Laddu
How are Til Ke Laddu made?
Til ke laddu is crafted by roasting sesame seeds, combining them with jaggery or sugar syrup, and shaping them into delectable laddus.
Are Til Ke Laddu healthy?
They are a healthy snack due to the nutritious sesame seeds and their associated health advantages.
Are Til Ke Laddu suitable for weight loss?
They can be enjoyed as part of a balanced diet for those aiming for weight management.
Can I eat Til Ke Laddu during pregnancy?
Expectant mothers can indulge in til ke laddu, but it's advisable to consult a healthcare professional for dietary guidance.
Are Til Ke Laddu vegan-friendly?
Indeed, they can be vegan, depending on the recipe. Explore our offerings for vegan options.
How long does Til Ke Laddu stay fresh?
When stored in an airtight container, they remain fresh for several weeks, ensuring you savour their goodness for an extended period.
Can I customize Til Ke Laddu with other ingredients?
Certainly! Get creative and customize your til ke laddu with added ingredients like nuts or spices to suit your taste preferences.
Explore Shahi Food Products and Enjoy Warm, Healthy Delights!