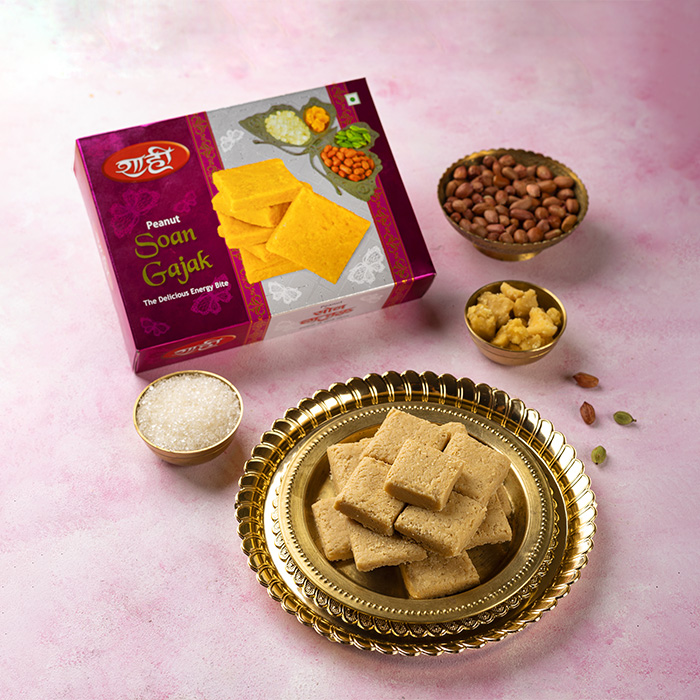 Discover the Royal Delicacy: Buy Shahi Gajak Online in India

Buy Shahi Gajak Online In India at the Best Price
Step into the world of Gajak and embark on a regal journey of flavours and traditions. Our exclusive collection of Shahi Gajak awaits your indulgence, available for online purchase across India. Immerse yourself in the richness of Gwalior's finest Gajak, where each piece tells a tale of taste and heritage.
Elevate Your Snacking Experience: Healthy Shahi Gajak Varieties Online

Buy Healthy Shahi Gajak Online Now
Experience the art of wholesome snacking with our range of healthy Shahi Gajak, available for convenient online purchase. These delectable treats redefine your snacking journey by infusing the goodness of natural ingredients into every bite, ensuring both pleasure and wellness.
Gajak's Nutritional Bounty: Taste Meets Nourishment

Nutritional Value of Gajak
Beyond its delightful flavours, Gajak stands as a testament to nourishment. Each substantial piece delivers not only a sensational taste but also essential nutrients that your body craves. With a commitment to your well-being, Gajak blends taste and nutrition seamlessly.
A Journey Through Gajak's Spectrum of Flavors

Exploring the Variety of Gajak Flavors
Delve into the richness of Gajak's diverse flavours, each encapsulating a heritage that resonates with tradition and innovation. As you explore the array of choices, you'll experience a symphony of tastes, elevating your snacking experience to new heights:
Shahi Gur Khasta Gajak: Immerse yourself in the regal sweetness of Gur Khasta Gajak, where the richness of jaggery meets the crispness of perfection.
Shahi Shakkar Khasta Gajak: Relish the timeless taste of Shakkar Khasta Gajak, capturing the essence of sugar's sweetness and delightful crunch.
Shahi Kaju Pista Gur Gajak: Experience luxury with every bite of Shahi Kaju Pista Gur Gajak, a harmonious blend of cashews, pistachios, and jaggery's natural sweetness.
Shahi Kaju Pista Shakkar Gajak: Indulge in nutty opulence with Shahi Kaju Pista Shakkar Gajak, combining cashews, pistachios, and sugary goodness.
With each flavour, Gajak encapsulates tradition while offering a diverse range of tastes to satisfy every palate.
Answers to Your Gajak Queries
Gajak FAQ
Curious about Gajak?
We've got you covered with answers to frequently asked questions:
Yes, Gajak can be vegan, depending on the recipe. Our Shahi Gajak offerings encompass vegan choices, making delightful indulgence accessible to all.
Embrace gluten-free snacking with certain Gajak varieties like our Shahi Gur Khasta Gajak. Explore our product descriptions to find the perfect fit for your dietary preferences.
Is Gajak High in Calories?
Indeed, Gajak is calorie-dense due to its nourishing ingredients, including nuts, jaggery, and sugar. It's a welcome source of instant energy, particularly during colder seasons.
Is Gajak Safe for Pregnant Women?
Pregnant individuals can enjoy Gajak in moderation. However, consulting a healthcare professional for personalized dietary advice is recommended.
Is Gajak Safe for People with Diabetes?
Gajak should be consumed in moderation by individuals with diabetes due to its sugar content. Prioritize a balanced approach to enjoy this delightful treat.