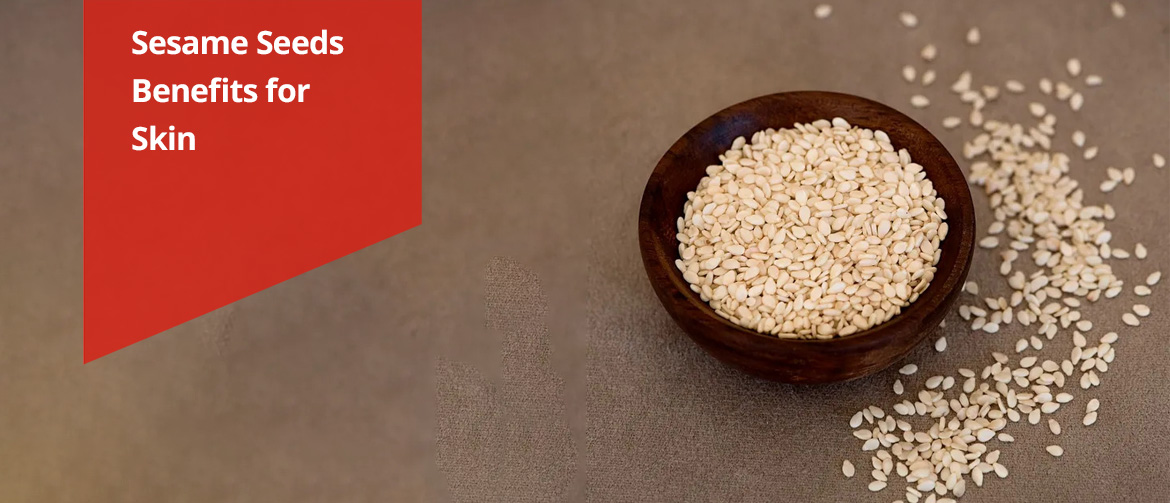 Sesame Seeds Benefits for Skin
Sesame seeds, which come in black and white varieties, add a nutty and crunchy flavor and texture to your dishes. The benefits include improved skin, hair, and overall health. They also add flavor to your meals with their mildly nutty flavor and provide many essential vitamins and minerals. There is no doubt that these seeds are rich in beneficial properties. You can use these potent seeds in oil, paste, powder, or roasted form, or they can be ground and blended into gravies.
What Are Sesame Seeds?
The sesame plant is a flowering plant of the Pedaliaceae family. You can eat them raw or dried, or even as roasted snacks. They get used as an ingredient in many dishes. White sesame seeds have a higher iron content than black sesame seeds. Black sesame seeds have an intense aroma and flavor than white or brown sesame seeds and contain 60% more calcium than white potatoes.
Sesame Seeds Nutrition Facts
Sesame seed oil is high in phytonutrients, like omega-6 fatty acids, flavonoid phenolic antioxidants, vitamins, and fiber. Sesame seeds of all varieties are nutritious. They have a high oil content ranging from 40% to 60%. They are high in minerals such as copper and manganese. They also contain higher dietary fiber and monounsaturated fats and magnesium, calcium, phosphorus, iron, selenium, vitamin B1, and zinc. The nutritional value of sesame seeds gets discussed further below.
Skin Benefits Of Sesame Seeds
Sesame is high in antioxidants and has antibacterial and antiviral properties. It benefits your skin by bringing blood and nourishment to it. Sesame seed oil is high in omega-6, calcium, magnesium, phosphorus, iron, and vitamins B and E, all of which get used in cosmetics.
Let's look at how sesame seeds can help your skin:
1. Therapeutic Properties
Sesame seed oil is a natural anti-inflammatory with powerful healing properties. Its antibacterial properties aid in eliminating skin pathogens, such as staphylococcus and streptococcus. And common skin fungi like athlete's foot fungus. Vaginal yeast infections can get treated with sesame seed oil mixed with warm water.
2. Sunburn Treatment
You can use sesame seed oil to treat suntans after exposure to wind or sun. It protects your skin from the sun's harmful ultraviolet rays, preventing the appearance of wrinkles and pigmentation. Regular application of this oil reduces the risk of skin cancer and protects the skin from the effects of chlorine in swimming pool water.
3. Glowing Skin
Sesame seed oil can help you achieve glowing skin. It keeps skin flexible by keeping it soft and supple, and it heals minor cuts, scrapes, and abrasions. It tightens the facial skin, particularly the nose, and controls pore enlargement.
Hair Benefits Of Sesame Seeds
Sesame seeds are high in vitamins, nutrients, and minerals, essential for maintaining a healthy scalp and hair. Sesame seed oil, like skin oil, has beneficial effects on your scalp, combating a variety of scalp problems. The following are the benefits of sesame seeds for the scalp.
1. Promote Hair Growth
You will find essential fatty acids such as omega-3, omega-6, and omega-9 in sesame seeds that promote hair growth. The sesame seed oil promotes hair growth by nourishing, conditioning, and promoting a healthy scalp. Massage with warm sesame oil regularly penetrates your scalp, increasing blood circulation. It is similar to a liquid vitamin that feeds the roots and shafts of your hair.
2. Scalp Problem Prevention
Sesame seeds are high in vitamins, minerals, and nutrients essential for a healthy scalp. Massage sesame seed oil into your scalp to combat dryness, flakiness, and clogged pores, which cause hair thinning and loss. Furthermore, its antifungal, antibacterial, and anti-inflammatory properties aid in the treatment of scalp infections and dandruff, as well as the soothing of an irritated scalp.
3. Deep Conditioning
Sesame seed oil is a deep conditioning treatment that you can use on dry, damaged hair, split ends, or chemically treated hair. It replenishes lost moisture and strengthens the hair shaft, restoring shine, bounce, elasticity, and softness to dull and brittle hair.
Conclusion
The uses and benefits of sesame seeds are plenty. Therefore, including these in your daily diet or using them externally for your skin and hair can become beneficial. However, make sure you check with your doctor for any allergies or underlying health issues before adding sesame seeds to your everyday diet.
Sesame Seeds Products at Shahi Food
Sesame seeds provide the perfect nutrition, and if you check out our products, you will find a bit of taste and health. Explore our range of Laddu, Gajak, Chikki, among others at Shahi Food Products. To shop, you can visit https://www.shahifood.in/.
Gwalior- the one with the glorious past. A heritage carefully safeguarded and evident in its monuments which stand tall, the vibrant culture and of course, the unadulterated taste of its local food.
Trackbacks and pingbacks
No trackback or pingback available for this article.