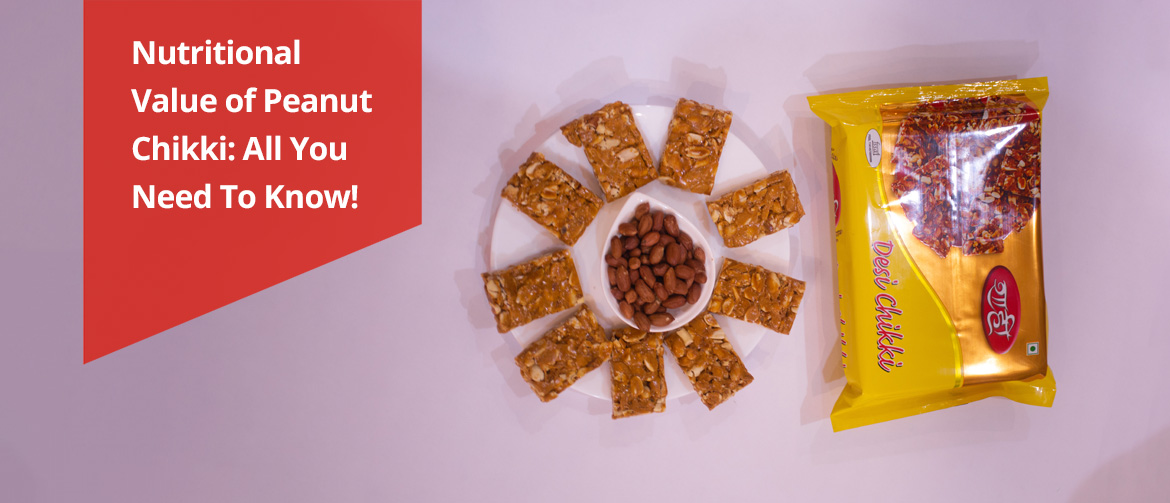 Nutritional Value of Peanut Chikki: All You Need To Know!
How Many Calories Does One Piece Peanut Chikki Have?
One piece of peanut Chikki has approximately 79 Calories which makes a total of 4% of the daily amount of required calories. Now if you break down the calories you'll find that carbohydrates account for 39 calories, fat accounts for 32 calories and proteins account for approx. 8 calories.
Normally an adult diet needs 2000 calories to balance energy & weight. So if you are looking for diet supplements or food items to include in your diet, Peanut Chikki or Desi Chikki is a great choice.
Shahi food products also follow a standard procedure of maintaining the calories so that you enjoy your delicious sweet snack without doubting it. Let's explore the nutritional content of Desi Chikki.
| | |
| --- | --- |
| Nutrients | Calorific Value Kcal/100g |
| Protein | 11.49 |
| Fibre | 4.92 |
| Carbohydrate | 52.43 |
| Sodium | 38.32 |
Read our latest blog What is Chikki: Preparation, Varieties, Benefits to know more!
Is Peanut Chikki Good For Health?
To give a straight answer, yes, Peanut Chikki is packed with great health & beauty benefits. This natural sweet delicacy has a lot of immunity benefits as well, which makes it the best choice for lean but healthy people. Let's see what this Desi Chikki has to offer that has wrapped many people around it!
Balances Cholesterol levels & keeps heart healthy
Anti-inflammatory properties treat skin ailments
Keeps nervous diseases at bay
Keeps the body warm during winters
Helps in the growth & development of children
Read our latest blog Is Chikki good for health to know more!
Does Peanut Chikki Have Protein?
As mentioned above, Peanut Chikki has up to 4g of Protein. So people who are looking to add protein naturally should add peanut Chikki to their diet. It is known that peanuts have more protein than any other nut. They also have the right balance of magnesium & copper and can help you balance your mineral quota with additional benefits of Jaggery.
Jaggery keeps the sugar levels at bay while giving the body natural sugar. It also purifies blood so you can say, eating peanut Chikki has skin benefits. Eating the right amount of protein helps you to balance your weight by keeping cravings at bay. So, you may say that you'll eat less when you add Chikki to your diet.
Is Peanut Chikki Good For Weight Gain?
The benefits of peanut Chikki are unmatched and for that reason, people tend to add it to their diet in moderation. It is also known that Chikki fights cravings thereby, helping people to manage their weight effortlessly. You can gain weight from peanut Chikki if you consume it in large quantities.
The Bottom Line
Adding Chikki to your diet is always beneficial as it keeps you energized and healthy despite being labelled as a sweet candy in some people's minds. What you count on are the benefits of consuming Chikki. The best bet would be to have it in moderation so that you absorb all the benefits without gaining weight.
Buy Gwalior's Famous Shahi Chikki Online Now!
Shahi Food Products takes a lot of pride in each of its delicacies including Desi Chikki. It is made from a decades-old traditional recipe that is prepared with only love. Now indulge in a taste that lingers in your mouth with ease. Order Desi Chikki online from the comfort of your home and get it delivered to your doorstep.
Gwalior- the one with the glorious past. A heritage carefully safeguarded and evident in its monuments which stand tall, the vibrant culture and of course, the unadulterated taste of its local food.
Trackbacks and pingbacks
No trackback or pingback available for this article.