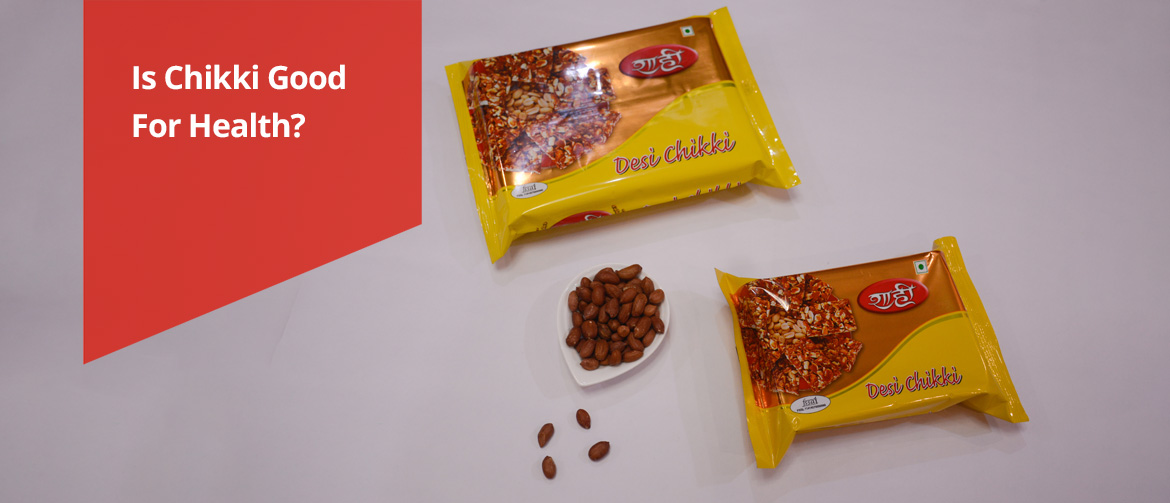 Is Chikki Good For Health?
A delicious traditional dessert, Chikki is mostly remembered for its crispiness, aromatic aftertaste and immunity-building properties. For those who don't know, Chikki is a rich amalgamation of peanuts & jaggery that serves as a power-pack snack on the go.
This natural sweet snack is filled with health benefits. Some might even find some beauty benefits in a Chikki. Anyways, it is mainly consumed to keep the body warm and provide it with the nutrients it needs. Apart from keeping the body warm, Chikki has other health benefits that one should be aware of.
Related Blog: What is Chikki: Preparation, Varieties, Benefits & More!
7 Health Benefits of Eating Chikki
Gur or jaggery Chikki is majorly made from 2 ingredients – Jaggery & peanuts but has a lot to offer. Munching gives the body the nutrient it needs especially during winters. What are the other benefits of Chikki? Let's find out.
Here are 7 health benefits of eating chikki you should know:
1. Manages Blood Sugar Levels
As Chikki is made using Jagger – unrefined sugar it adds the sweetness the delicacy needs without spiking your blood sugar levels. Hence it is a good option for those diet-conscious folks. Jaggery on the other hand can be consumed every day without upsetting your sugar levels.
2. Purifies Blood
Jaggery is rich in iron which enhances the production of blood and is also known to purify it. Zinc and Selenium in jaggery help in detoxifying the liver. When consumed regularly, it cleans the blood, thereby leaving the body healthy & fit.
3. Manages Cholesterol Levels
The peanuts in Chikki are known to lower bad cholesterol in the body. It keeps coronary artery diseases at bay and provides the body with the right amount of lipids and protein. Jagger, on the other hand, keeps the blood sugar levels in check.
4. Boosts Skin Health
Peanut Chikki has anti-inflammatory properties that can be helpful in reducing skin inflammation. Vitamin E, Zinc & Magnesium are commonly found in Chikki which keeps the skin glowing from within. It also keeps acne, wrinkles & spots at bay when consumed on a regular basis.
5. High in Minerals & Vitamins
Chikki is high in iron peanuts are packed with protein, and all in all, it makes it a healthy snack that provides the body with a good amount of protein & minerals. Hence, it is advised that growing children should consume Chikki on a regular basis.
6. Helps In The Growth & Development Of Children
Chikki has the right amount of lipids, proteins, minerals & vitamins all of these aid in the growth & development of children. It also supports the body with the right amount of sugar required on a daily basis. Another benefit of Chikki is that it is considered a healthy snacking option for children instead of junk food.
7. Keeps Nervous Diseases At Bay
The risk of having nervous diseases like Alzheimer's can be reduced by having jaggery. It is rich in antioxidants which dilute the blood easily and maintain the flow properly.
The Bottom Line
These are a few benefits of Chikki that everyone should remember before tossing it aside. The beauty of it lies in the simple and pure ingredients used to prepare such a delicacy. You too can add Chikki to your diet on a daily basis provided it is consumed in moderation.
Especially during winters, you should consider having a bite or two post-meal. Whatever might be the reason, you can always find the traditional and well-preserved taste of Chikki at Shahi Food Products.
Buy Gwalior's Famous Chikki Online at Shahi Food Products
Shahi Food Products takes a lot of pride in each of their delicacy including Desi Chikki. It is made from a decades-old traditional recipe that is prepared with only love. Now indulge in a taste that lingers in your mouth with ease. Order, Desi Chikki online from the comfort of your home and get it delivered to your doorstep.
Gwalior- the one with the glorious past. A heritage carefully safeguarded and evident in its monuments which stand tall, the vibrant culture and of course, the unadulterated taste of its local food.
Trackbacks and pingbacks
No trackback or pingback available for this article.